Canadian Music Fest Night THREEEEEE!
This night started off on a sweet note and ended with a whole lot of attitude.
It all began at Underground Garage for the Balcony TV showcase. Balcony TV originated in Ireland, so it was only fitting to feature some awesome Irish talent. Warming up the stage were Windings out of Limerick, Ireland. Their sound was crisp and clean. At the beginning of their set they felt a little subdued, playing some slower sweeter tunes.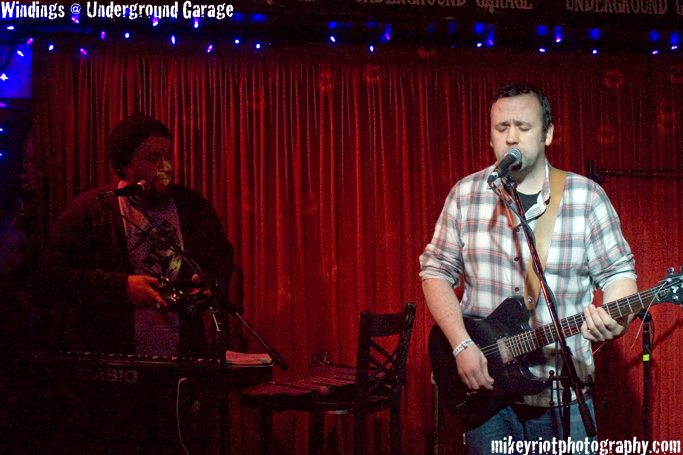 Not for long though… "This concludes the soft portion of our set," said front man Steven Ryan "Now we're gonna get into the heavier stuff". They kicked their set up a notch with catchy tunes in which I could detect hints of The Pixies and The Smiths. In a way this band sounded distinctly Irish. I can't exactly put my finger on it but there is a quality that makes Irish pop-rock quite distinct. Its found mostly in the guitars I think. Windings have quite a charming stage presence, which goes a long way for them.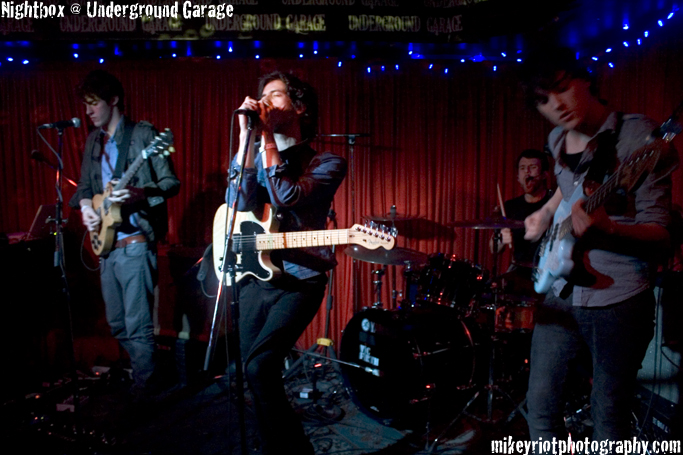 Next to grace the Underground Garage stage was Nightbox. Though native to Ireland the band now calls Toronto home. Nightbox by far stole the night. With their contagious brand of new-wave electronic rock they had the entire crowd up and dancing within seconds.  Jake Bitove belted out melodies while disjointedly dancing about. Every song I was digging more than the next and my energy and spirit got higher and higher with each tune they played.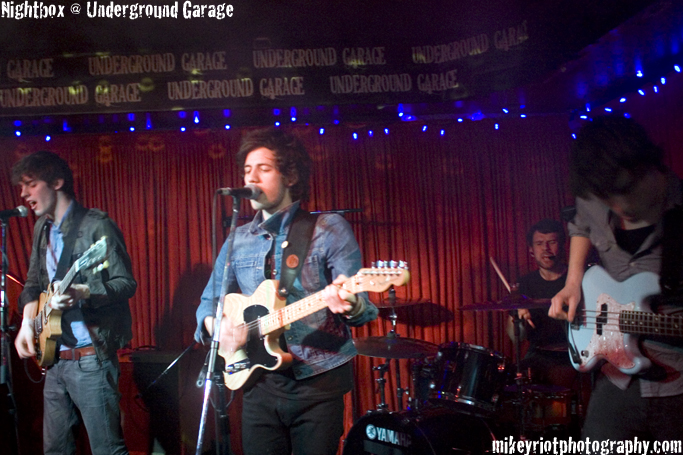 And then the clincher. James Tebbitt starts strumming out a great ska-style beat on his guitar. While grooving along something about it sounded familiar, and then the lyrics come in. I nearly died of awesome as these guys hammered out a ska like version of The White Stripes' Blue Orchid. It's a great cover that I now have a craving to hear over and over. Their song 'Relocate You' really stood out to me and has been in my head ever since. Nightbox are definitely a must see show this week. If you missed their show tonight, do yourself a favour and check them out tomorrow (Saturday) at The Rivoli!
We now have half an hour to book it across town to The Painted Lady to catch England's Yunioshi.  Running from King and Peter to Ossington and Dundas in such a short time crunch is no easy task. We make it there just under the wire and get inside just as they are about to take the stage.
Its completely packed and I'm barely able to make it half way to the front. We are like sardines, except more hot and sweaty. Their self described 'robot funk' sound is quite appropriate. They hit hard with dynamic beats and funky rhythms. Rob Yunioshi toasts over the music with a compelling hard edge. Each song has its own personality, which kept the performance constantly fresh and new. I feel completely engaged throughout and can't help but dance around. If you like the sounds of Red Hot Chili Peppers, Kraftwerk, and Rage against the Machine then this band is for you. They went above and beyond my expectations. Extra points go to this band for not getting completely distracted by the burlesque dancer on the bar.
After Yunioshi left the stage, It was time to head to The Silver Dollar to check out BB Guns.  We arrive a little early and catch the end of Dirtymags' set. I have such a heart on for music that sounds rough and raw and all I wanted to do was jump right into the mosh pit. I really liked what I heard. It was heavy, a little dirty, and filled with lots of heart.
And now to experience BB Guns. I hadn't heard much about them before hand and wasn't sure what to expect. They began their first song and immediately the first thing that stuck out was their attitude. They've got lots of it, staring down the audience ready to kick some ass.  I'm a huge fan of strong females in music and this seemed right up my alley.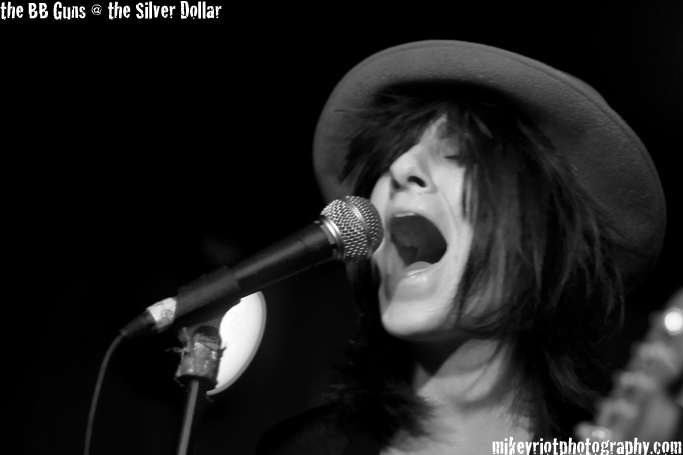 I really wanted to like them but I have to say I'm still quite undecided. There were many elements that I really liked; their attitude (of course), their style, and their guitar playing were all awesome. On more than one occasion it felt like something you'd hear on a Jay Reatard album. With all that said, they just didn't do it for me. While the girls had a lot of energy and spunk, their drummer was very subdued which was an odd almost awkward contrast, and I'm still not sure how much I liked the vocals. The performance felt very green (I later learned that this was their first performance together). BB Guns are one of those bands that I think I need to grapple with. I'd like to hear what they sound like recorded and see them after a couple more shows before I completely form my opinion of them, but as it stands they just fell a little short.
The third night out for CMW was filled with some amazing finds and tons of great audiences. I have a real appreciation for the amount of support everyone is giving to these amazing acts. Toronto is so lucky to have the music community that it does, and festivals like this one just prove that even more. Looking forward to another great day of festivaling tomorrow, but for now, I need to rest up.
**Photos of Windings, Nightbox, and BB Guns by Mikey Riot. Check out www.mikeyriotphotography.com for more shots and photos of other CMW bands! **